Singapore Management University (SMU) Financial Literacy for Young Adults Program, supported by Citi Singapore and funded by the Citi Foundation, hosted the first FInHack 2021 from August to October to catalyze innovative solutions to meet the needs of the real world. The virtual competition attracted 59 inter-school teams comprising over 120 undergraduate and postgraduate students from Singapore's six autonomous universities.
Nine problem statements championed by several organizations, including the CPF Board of Directors, MoneySense, the Life Insurance Association and the nonprofit Aidha, were developed in accordance with the competition theme "Financial Literacy in the digital age ". They include emergency budgeting and savings, retirement planning, early investing, health insurance, engaging young people with special needs on money management topics, women and financial education.
Kick off with a kick
The Hackathon started on August 16, 2021 with a project information day during which Assistant Professor Aurobindo Ghosh, Program Director for the Financial Literacy Program for Young Adults of the Citi-SMU Foundation, pointed out that FInHack 2021 "contributes to a more financially inclusive society, and in the process, inclusive growth, which is increasingly becoming a challenge at all levels for all of government, not just in Singapore, but worldwide . "24 shortlisted teams had seven days to submit their proposals on a chosen problem statement.
Throughout the week, each team met with their Citi Singapore mentors to brainstorm ideas and gather feedback. Mentors from Citi Singapore played a crucial role in preparing teams for the hacking process by introducing them to the problem statements and how to break them down, exploring various methodologies to understand the target audience and encouraging them to fill in the gaps. possible in their solutions.
One of the mentors, Ms. Binita Shah, Vice President of Anti Money Laundering, Citi Singapore, said, "FInHack 2021 was a truly wonderful opportunity to provide guidance to young people today. It also allowed us to grow as a team as we regularly learned, unlearned and relearned in order to explore and select the best possible results to lead us to victory! "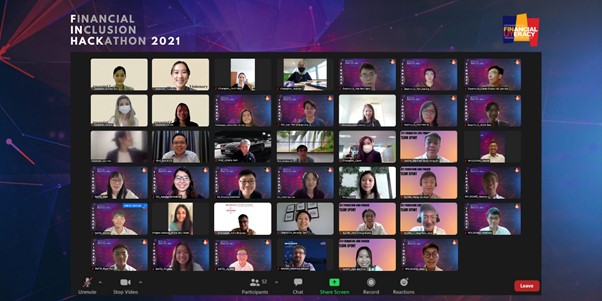 The top five teams advanced to the finals where they were invited to apply to a panel made up of their respective project champions (owners of the problem statements), volunteer Citi mentors and EMS professors during a pre-demo interview on September 9, 2021. They then set the floor on fire with an electrifying 2-minute elevator speech about their breakthrough solutions for live audience voting at the Hackathon Demo Day on September 10, 2021 , which coincided with the 8th Citi-SMU Foundation Financial Literacy Symposium. Aggregated scores from the pre-demo interview and live audience voting during the Hackathon Demo Day were compiled to determine the top 3 winning teams.
SpONT team
The first place is occupied by a team made up of first and second year students from NTU and NUS. The solution offered by Team SpONt is a mobile application that improves the financial literacy of young people with special needs entering the workforce by engaging them in money management skills and topics through games as well as budget monitoring tools. At the same time, the application extends to caregivers of young people with special needs. The application has two unique features: a duo-player mode to promote the link between caregivers and care recipients, and an audio function for visually impaired users.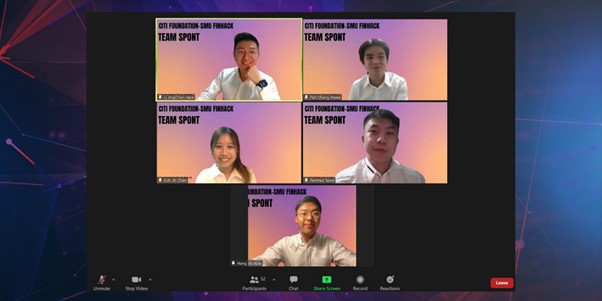 Their solution greatly impressed their project champions – the youth engagement team of the CPF Board of Directors. Ms. Amanda Sim, Manager, praised the team's efforts: "The SpONt team were very enthusiastic in sharing their solutions and how they approached our problem statement. They have shown compassion in their fight for the financial inclusion of underserved people in our community. The split screen / duo player functionality of their proposed app was commendable – it suggested the SpONt team's deep understanding of the importance of the caregiver role in the learning process for young people with special needs. Caregivers can monitor their progress and motivate these young people through the interactive function.
CPF's youth engagement team is currently examining how the solution proposed by the SpONt team can be incorporated into their ongoing youth engagement plans and the feasibility of operationalizing the solution in special education schools in the near future.
The team's journey to success has not been a bed of roses. Team leader Peh Cheng Hwee (NTU, Business Year 2) spoke about the challenges and obstacles they faced along the way. "The biggest challenge we encountered was reaching our target groups, namely young people with special needs who are about to enter the labor market (main group) and caregivers (secondary group). Being able to contact these groups would have helped us get constructive feedback for our solution.
With the support of the Board of Directors of CPF and SMU, the team managed to overcome this obstacle and conducted interviews with representatives and teachers from special education institutions such as Metta School, SG Enable and Pathlight. School to gather feedback on their application and changes that met the needs of the target groups. This gave them a better understanding of the level of financial education that young people with special needs receive.
Lit from the dean of the team
In second place, the Dean's Lit team, made up mainly of second year students from the SMU School of Computing and Information Systems. Their proposed solution is Lit App, an all-in-one mobile platform that allows users to monitor their budgets and receive personalized budgeting recommendations. as social features to motivate each other to improve their financial know-how through a virtual community.
With their solution, the team hopes to have the most impact on new graduates. Amid the uncertainty and softness of the job market due to the COVID19 pandemic, the team estimated that many new graduates don't know how they can manage their income after finding work, or how to create. a savings plan. As a result, many of them were not sufficiently prepared for situations of sudden changes in income levels.
Team leader Yan Jiaxing said, "Budgeting and income distribution for savings and emergency funds has never been more important for new graduates. Therefore, we want to close the gap and make budgeting easy for them to adopt.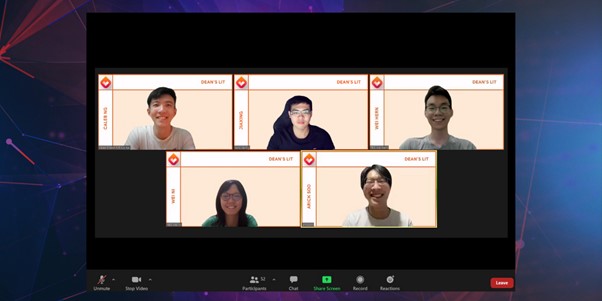 On the skills they learned from the Hackathon, Jiaxing shared, "Our team has learned a lot about user interface / user experience (UI / UX) design, design thinking, prototyping as well. that on how to conduct market research and use tests for our prototype to prove the feasibility and desirability of our concept.
smtd team
The smtd team, made up of a mix of first to fourth year students from SMU and SUTD, came in third. Their solution is a web-based platform that aims to educate, identify gaps in existing coverage, and guide Singaporeans to select the appropriate insurances that fill those gaps so that they are always in tune with their preferences. This is done in four steps: filling out a profiling questionnaire, uploading the existing policy for evaluation, identifying gaps between existing policies and preferences, connecting users to their preferred insurers.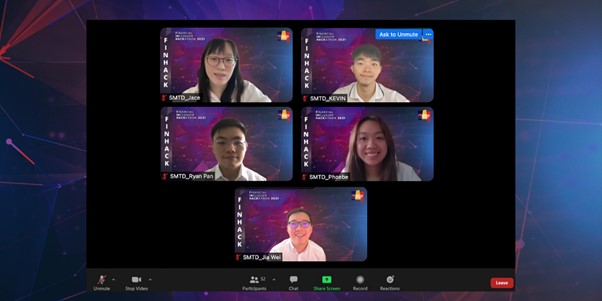 Unlike many corporate hackathons that primarily aimed at innovation for existing customers, the team was drawn to participating in FInHack 2021 because of its social impact. They chose to work on the problem statement – helping Singaporeans choose appropriate health insurance – because they felt it was an urgent need in society.
"More often than not, when you ask Singaporeans about their insurance policies, they are either unsure of their preferences or let their insurance agent take care of everything for them. This results in a lack of knowledge and overconfidence which can lead to underinsurance or overinsurance as their agents recommend these products too much, "said Teo Jia Wei, a fourth year student at SMU Lee Kong Chian School. of Business.
Team smtd's solution aims to completely revolutionize the way Singaporeans understand, manage and select their own insurance policies. Their platform is able to highlight gaps in existing user policies through scenario simulation so that it is accessible to people. Simple and straightforward recommendations are then provided to guide the user on how to address these gaps depending on whether the person is underinsured or overinsured.
Describing the lessons the team learned during their journey, Jia Wei said, "Communication is key, especially when we are describing features that we believe could benefit users. Being able to present it effectively to respondents strongly affects their final assessment of our solution and I think my team put a lot of effort into completing the focus group interview to explain our holistic assurance solution.
The three winning teams won $ 2,000, $ 1,500 and $ 1,000 in vouchers and the opportunity to execute a proof of concept, respectively, under the mentorship of their Citi mentors and in consultation with their respective project champion. .